Purdue University GER²I Youth Programs(China)
Date:19 July – 30 July, 2022(break on Sunday and Monday)
Grade:7-9
Hosted by the world-renowned Gifted Education Research and Resource Institute (GER2I)
45 years of experience in gifted education
One of the most recognized youth academic programs in the US
Same curriculum and faculty as offline camps in the US
With of official GER2I completion certificate and evaluation report
6 Optional Topics:
Brain science, Economics, Computer science, Engineering, Future science, Neuroscience
ASDAN China reached a strategic cooperation with Purdue University GER²I in 2022, which symbolizes the introduction of the Purdue University GER²I program to outstanding Chinese youth. The GER²I offers two main types of programs: In-person camps at Purdue University and online camps. Due to epidemic prevention and control requirements, GER²I will work with ASDAN China to open online camps in the summer of 2022, bringing its most classic middle school programs for grades 7 to 9 to China, the topics include: Brain science, Economics, Computer science, Engineering, Future science, Neuroscience.
Purdue University

Purdue University was founded in 1869. It has been ranked as among the best public universities in the United States by major institutional rankings, and is renowned for its engineering program. Purdue is also the founding member of the Big Ten Conference and member of the Association of American Universities. Purdue university has been integral in America's history of aviation, having established the first college credit offered in flight training; the first four-year bachelor's degree in aviation; and the first university airport: Purdue University Airport. Purdue's aviation technology and aeronautical engineering programs remain among the most competitive aviation-specific programs in the world. In the mid-20th century, Purdue's aviation program expanded to encompass advanced spaceflight technology, giving rise to Purdue's nicknames Cradle of Astronauts and Mother of Astronauts. 23 Purdue graduates have become astronauts, including Gus Grissom, one of the original Mercury Seven astronauts; Neil Armstrong, who was the first person to walk on the moon; and Eugene Cernan, who was the last person to walk on the moon.
Purdue has been affiliated with 13 Nobel laureates, 1 Turing Award laureate, 2 World Food Prize laureates, 3 Pulitzer Prize winners, 18 Olympic medalists, 3 National Medal of Technology and Innovation recipients, 2 National Medal of Science recipients, 3 Presidential Medal of Freedom recipients, 7 members of Congress, 3 U.S. governors, and 2 heads of state. Purdue has over 400,000 living alumni. Its alumni have included 26 astronauts, 6 current Fortune 500 CEOs, 2 Rhodes Scholars, 4 Truman Scholars and 3 Gates Scholars.
The Gifted Education Research and Resource Institute
The Gifted Education Research and Resource Institute (GER2I) at Purdue University is an innovative center dedicated to the discovery, study, and development of human potential. Founded by John Feldhusen in 1977, GER2I's mission is holistic development of giftedness, creativity, and talents among individuals throughout their lifespan. This is accomplished through enrichment programs for gifted, creative, and talented youth; graduate programs for future scholars and leaders; professional development and coursework for educators of gifted, creative, and talented students; and cutting-edge research in psychology and education related to giftedness, creativity, and talent development.
Purdue University GER²I Youth Programs
Every summer, for over 40 years, GER²I has engaged gifted, creative, and talented students from across the country and around the world in residential camps designed to stimulate their imagination and expand their abilities. Students take challenging courses, and participate in engaging recreational activities. GER2I offers on a wide range of topics in computer programming, railroad engineering, rocketry, and aerospace, as well as courses in physics, math, science, social studies, art, and language arts.
6大可选课题
脑科学、经济、工程、 未来科学、计算机科学、神经科学
| | |
| --- | --- |
| TIME | ACTIVITY |
| 8:00-11:00 / 7:30-10:30 | Online classes (zoom) |
| 14:00-15:30 | Activities led by bilingual TA |
| 15:30-16:30 | Office hour led by bilingual TA |
| 16:30-20:00 | Independent reading/Completing assignments |
*The final schedule is subject to change by Purdue University GER²I
Certification and Evaluation Report
At the end of the program, each student will receive an official certificate of completion and a personalized evaluation report from Purdue University The Gifted Education Research and Resource Institute (GER²I).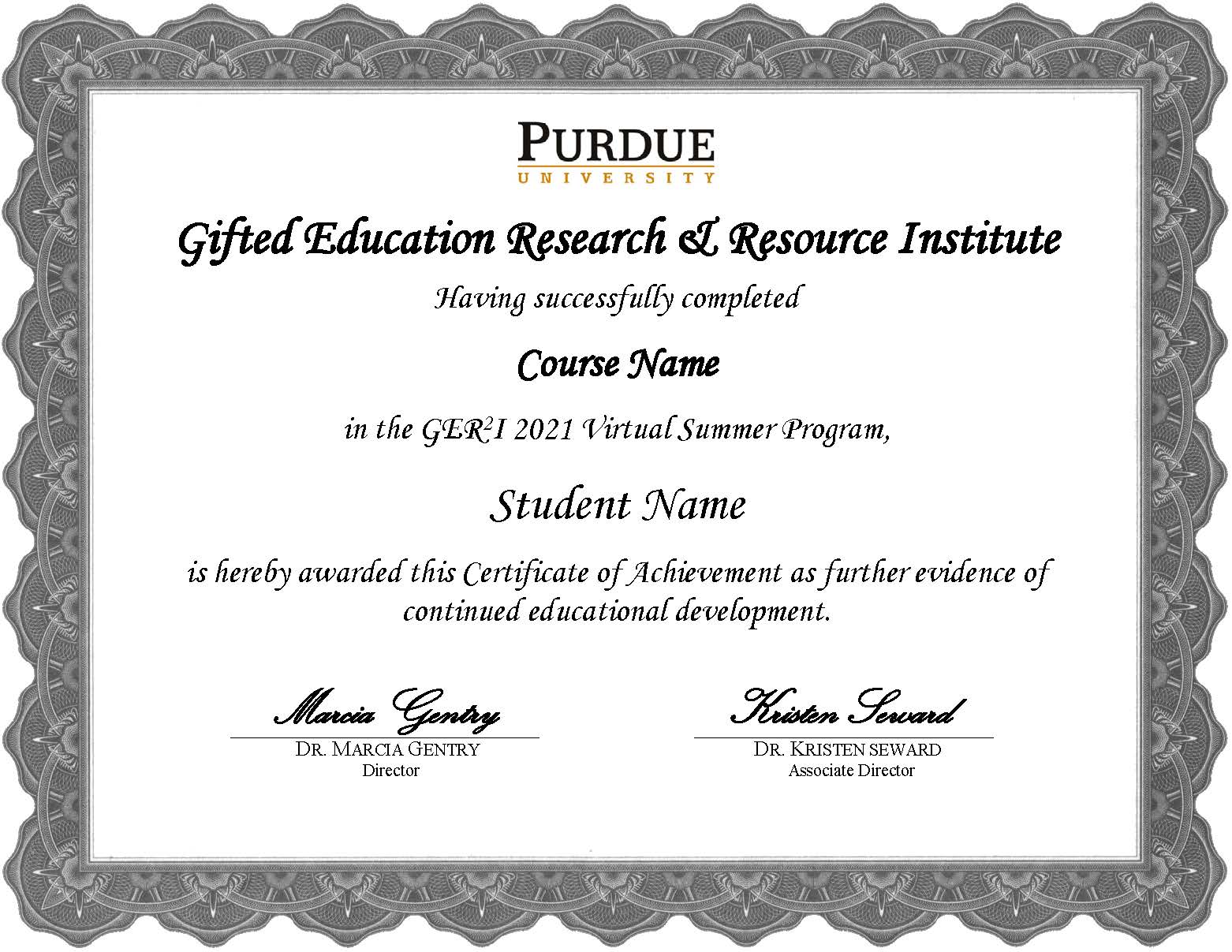 Certification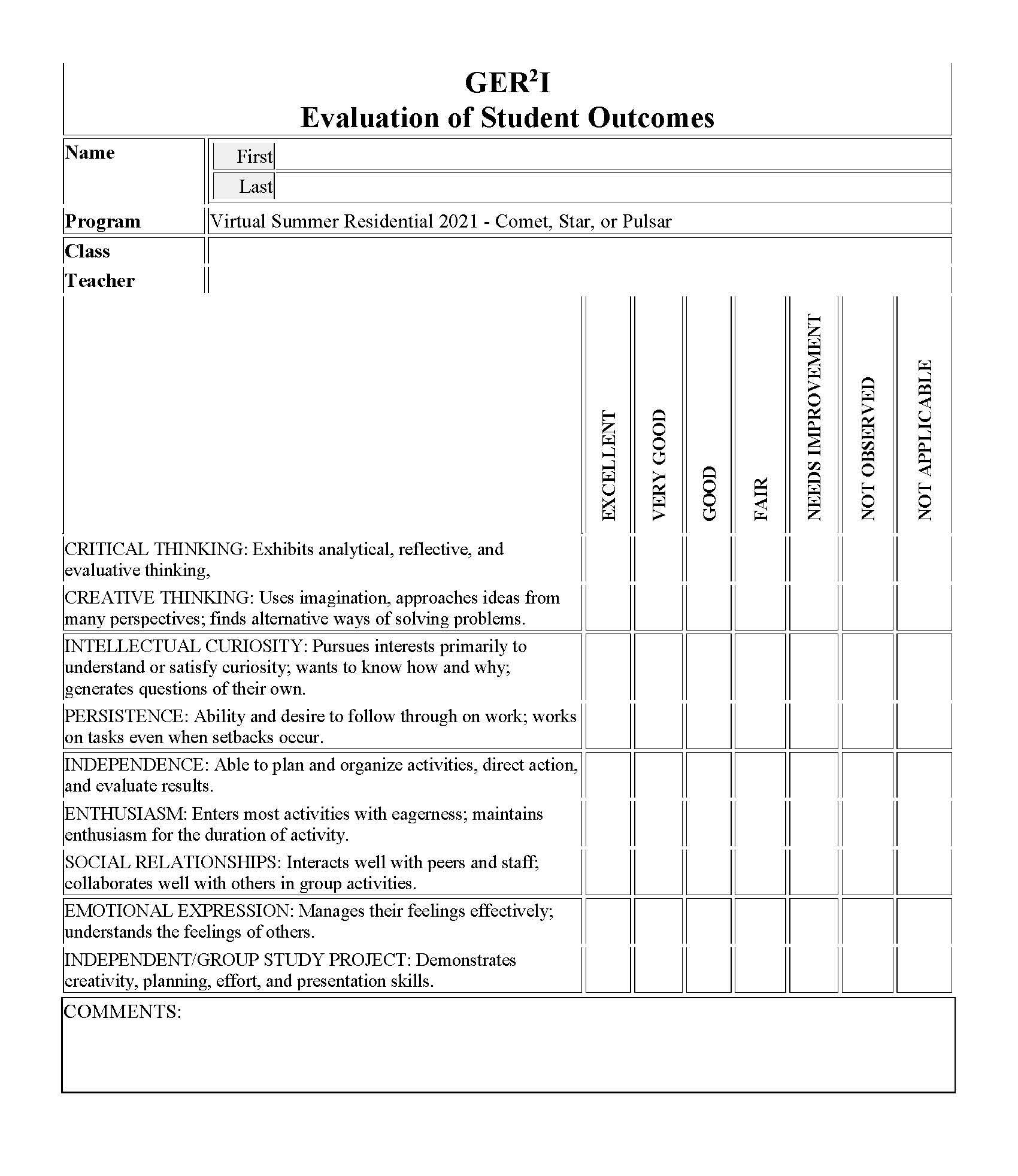 Evaluation Report
Date:
19 July – 30 July, 2022(break on Sunday and Monday)
Grade:
7-9
Language:
English
Quota:
Up to 18 students per topic
Application Method
01. 90th percentile or above in math and 75th percentile or above in English on a nationally normed, standardized grade-level achievement test (e.g., MAP, STAR, etc.), or The requisite scores for PSAT 8/9 - Taken in grade 6 or earlier.
02. Recommendations from invited principals of partner schools
04. Without the above test scores, students need to pass the online selection test organized by ASDAN China (focus on math and English skills).